In the ever-expanding digital landscape, establishing a strong online presence is non-negotiable for businesses of all sizes. Formerly known as Google My Business (GMB), Google has rebranded it as Google Business Profile (GBP), reflecting its pivotal role in connecting businesses with customers. Let us explore the essence of Google Business Profile, its importance for companies, and the step-by-step process of creating, verifying, and optimizing your business presence on Google.
The Evolution: Google My Business to Google Business Profile
Google's rebrand from Google My Business to Google Business Profile shifts focus from ownership to user experience, highlighting the profile's role in portraying a complete business identity for potential customers.
Why Google Business Profile is Essential for Any Company
Visibility and Credibility:
GBP serves as a digital shopfront, boosting visibility for potential customers seeking your products or services.
A current, accurate profile fosters trust, enhancing your business's credibility.
Local SEO Boost:
Google relies on your Business Profile for local search rankings, emphasizing its importance for local SEO.
An optimized profile enhances visibility, drawing in nearby customers effectively.
Customer Interaction:
Google Business Profile is a central platform for businesses to engage with customers by responding to reviews, delivering updates, and direct audience interaction.
CREATING A GOOGLE BUSINESS PROFILE – STEP BY STEP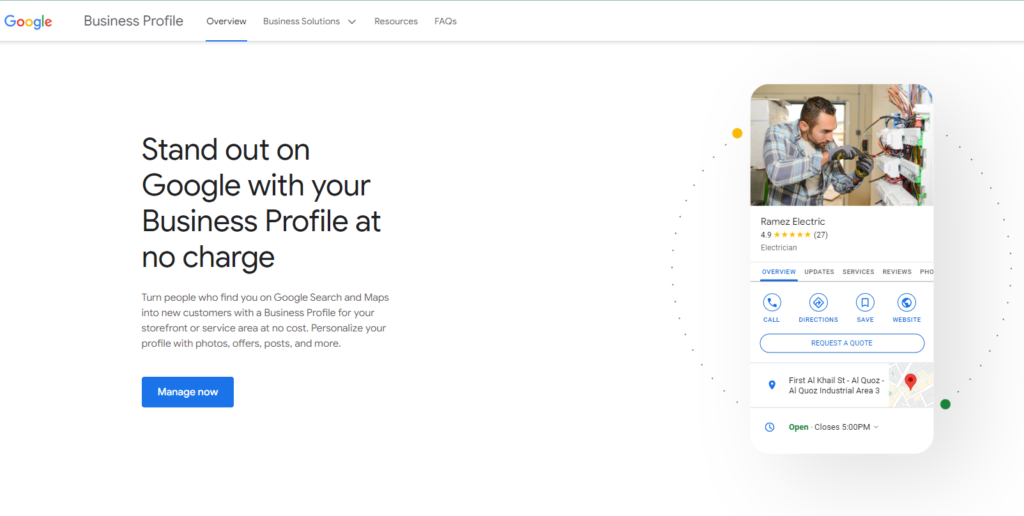 1. Google Account: Sign in to your Google Account. If you don't have one, create it.
2. Visit Google Business Profile: Go to the Google Business Profile website.
3. Add Your Business: Click on "Add your business to Google.
4. Business Information: Enter your business name, address, phone number, and category.
5. Location on Map: Position your business location accurately on the map.
6. Additional Details: Provide additional details such as your website, business hours, and attributes.
7. Finish and Manage: Complete the setup, and you can now manage your GBP.
VERIFYING YOUR GBP – IN 4 STEPS
1. Verification Options: Google offers multiple verification options, such as postcard, phone, email, or instant verification for eligible businesses.
2. Choose Verification Method: Select the most convenient method for your business.
3. Enter Verification Code: Once you receive the verification code, enter it to confirm your business.
4. Verified Status: Your GBP is now verified and ready to be managed.
What Information Can Be Added to Google Business Profile
1. Business Details: Name, address, phone number, website, and business category.
2. Photos: Showcase your business with high-quality photos of your premises, products, and team.
3. Business Hours: Specify your operating hours, including special hours for holidays.
4. Attributes: Add attributes such as Wi-Fi availability, outdoor seating, and more.
5. Services: List the services you offer, helping customers understand your offerings.
6. Reviews: Manage and respond to customer reviews to build trust and engagement.
Google Business Profile Reviews
Building Trust: Customer reviews on Google Business Profile contribute to your business's reputation and trustworthiness.
Engagement: Responding to reviews, whether positive or negative, shows that your business values customer feedback and is actively engaged.
Influencing Purchase Decisions: Positive reviews influence potential customers' decisions, and businesses can use feedback to make improvements.
Google Business Profile and Google Search Results
Local Pack: Businesses with optimized Google Business Profiles are more likely to appear in the local pack—a prominent feature in Google's search results displaying local businesses.
Knowledge Panel: A well-optimized profile enhances the chances of your business appearing in the knowledge panel, providing users with quick access to essential information.
Local SEO Ranking: Google relies on your Business Profile for local search rankings, a crucial element in local SEO success.
Google Business Profile has evolved into a powerful tool for businesses, acting as a gateway to online visibility, customer engagement, and local SEO success. VOILAWEX plays an indispensable role in harnessing the potential of Google Business Profile (GBP) and guides businesses through the creation, verification, and optimization of their GBP. This dynamic partnership empowers businesses to thrive in the fiercely competitive digital arena, ensuring a prominent digital presence. Embrace the power of GBP, reach out to VOILAWEX at (+91) 8129 837 086 or mail @voilawex.com.and let your business shine in the digital realm.